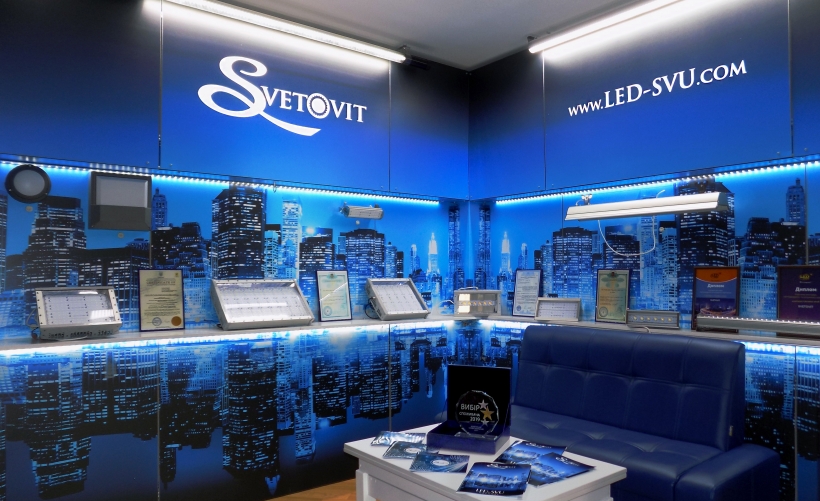 Since 2012, the company "SVETOVIT" is a leading producer of energy-saving LED lamps and lighting systems in Ukrainian market, registered under the trademark "LED-SVU". High product quality is confirmed by presence of certified production in accordance with ISO 9001-2015, European, environmental friendly components that do not require disposal, as well as a warranty period of 5 years for the luminaries.
Our main goal is to replace all the energy-saving models with economical LED lamps, thereby reducing customer energy costs by up to 80%. Our services include lighting audit, project calculation by our own engineering department and further post-warranty service.
The manufactured LED-SVU luminaries are applicable for various fields:
● industrial lighting in production halls, on construction sites and terminals;
● lighting of sports and recreational, security facilities, facades of houses and shopping centers, streets;
● illumination of warehouse, office premises, covered parking lots, hangars, gas stations and exhibition complexes;
● lighting for rooms with high humidity: car washes, cellars, industrial food and livestock buildings;
● trade and office and design lighting;
● phyto-lighting.


Thanks to our own production, we are able to produce unique LED lamps that will have no analogues. To test the quality of our products, we give customers an opportunity to test a sample of the lamp. We will deliver our finished products to any corner of Ukraine free of charge, having produced them as soon as possible.
The company "SVETOVIT" is a successful combination of effective control of management, advanced production technologies and qualified team of specialists in the field of engineering and management. The company carries out systematic work on modernization and reconstruction of production, improving the quality of products, expanding the range, market for finished products in order to most fully meet the requirements of consumers. According to the results of the conducted analytics, the company "SVETOVIT" was included in the Register of reliable and investment-attractive enterprises 2018-2020.

More than a thousand satisfied customers of well-known large enterprises, who once having made a choice in our favor, continue to work with us to this day testify to the effective activity of the SVETOVIT company.
We are grateful to our partners for their trust, for it is only through them that we, for the third year in a row, the awards «Consumer Choice» and the title «Company of the Year».

Certifications